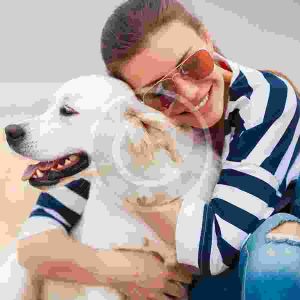 Hi everyone,
I kept thinking what topic should I choose to write on our furry friends. I am no different than others who are obsessed so much with them that we don't like our pet to be called Dog. Well, what do I say about them that has not been written before. Thus, let me blurt out a concern which is hovering me since last few months, about keeping a dog as a pet.
Well, my heart gets pierced when I see a pet/family dog tied outside in the verandah for majority of the day. Specially when they got the dog just so to maintain bond and trust with it and also train him well from a very young age. If you can't take care of the dog then why get one. If you take him as a showpiece at your place then he will get cranky and indiscipline. And how insensitive of those who tie their dog out in sun and rain. I believe it is better to leave them on streets than tying them outside your place. At least they will be free from that slavery.
Just feeding your dog and taking him out for potty doesn't get your work done. Consider your pet as your child. So, talk to him on day to day basis, communicate with him by singing a song or dancing with him. Scold him whenever he does something uncalled of which makes him a bad dog. Also take him out on your week offs to dog parks or just make him socialize with other neighboring harmless animals.
Don't adopt or shop if you aren't prepared to nurture it. I even see some pet owners going overboard in pampering their dogs. That is also not a good way. They are animals after all. They have to be tamed else they will become insincere. If you experience your dog biting (out of teething) or barking on even acquainted people of visit your place then it is time for you to train them.
I want to sum it up by saying getting a dog isn't a achievement in itself but it all boils down to how you have trained and cared for him
By Trupti Sanna